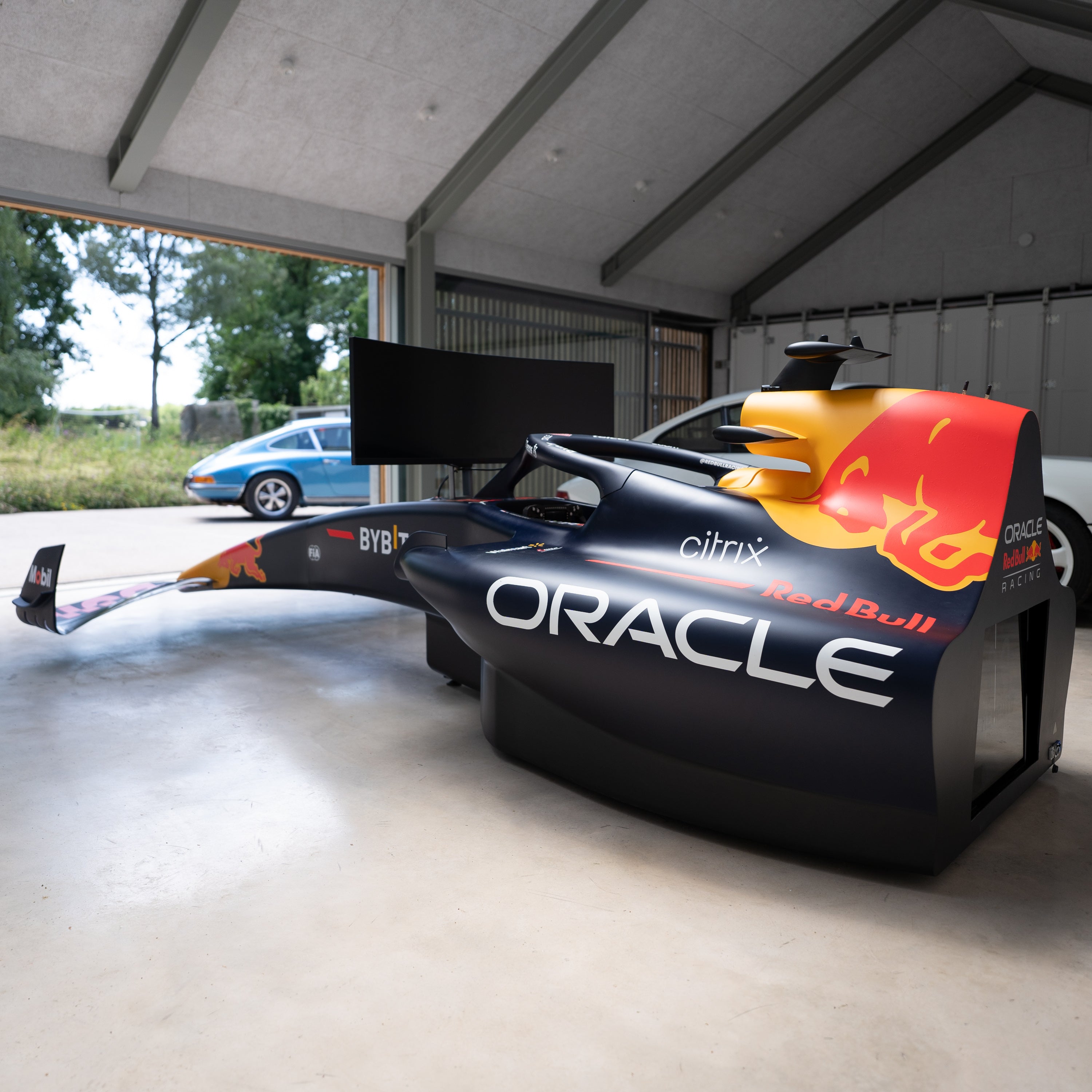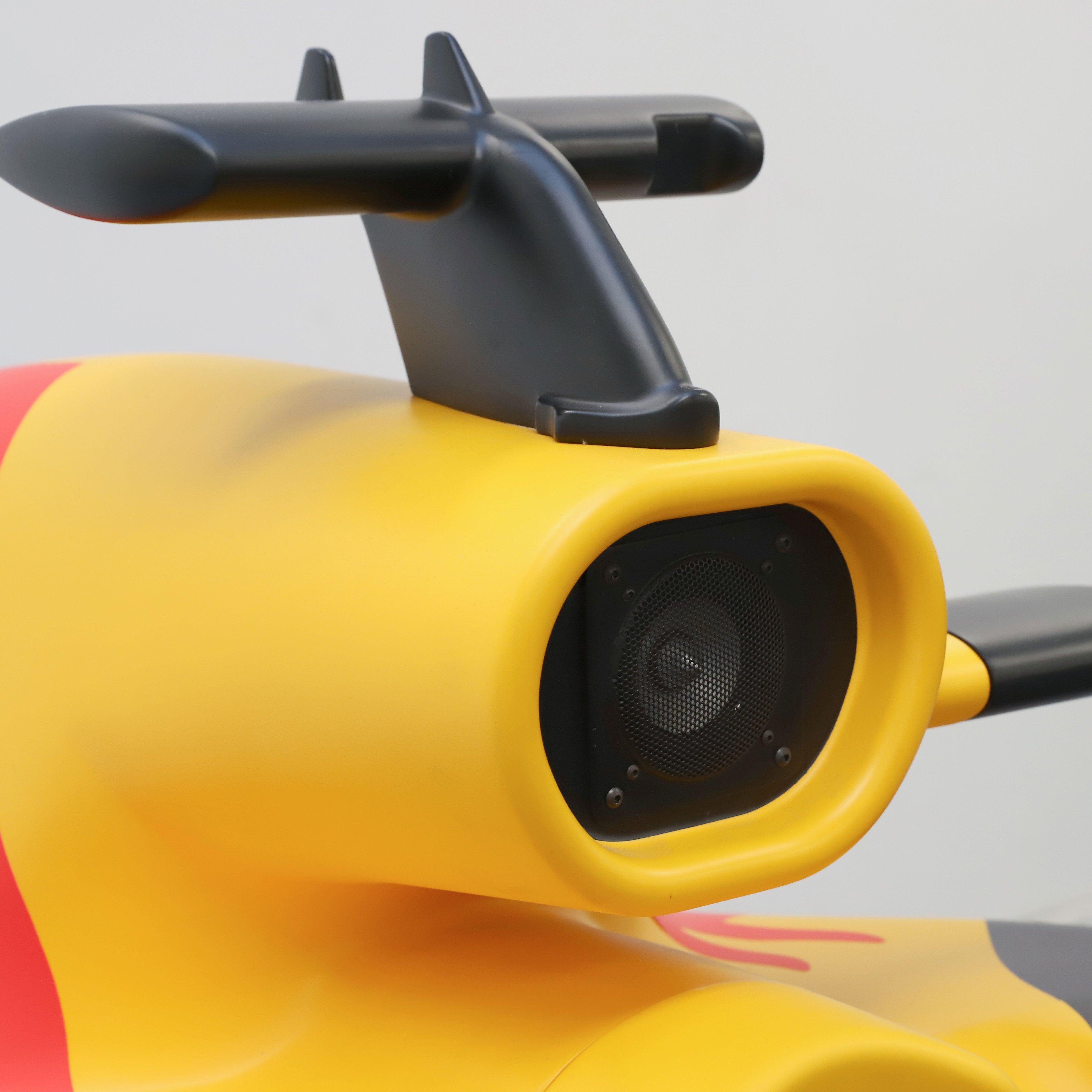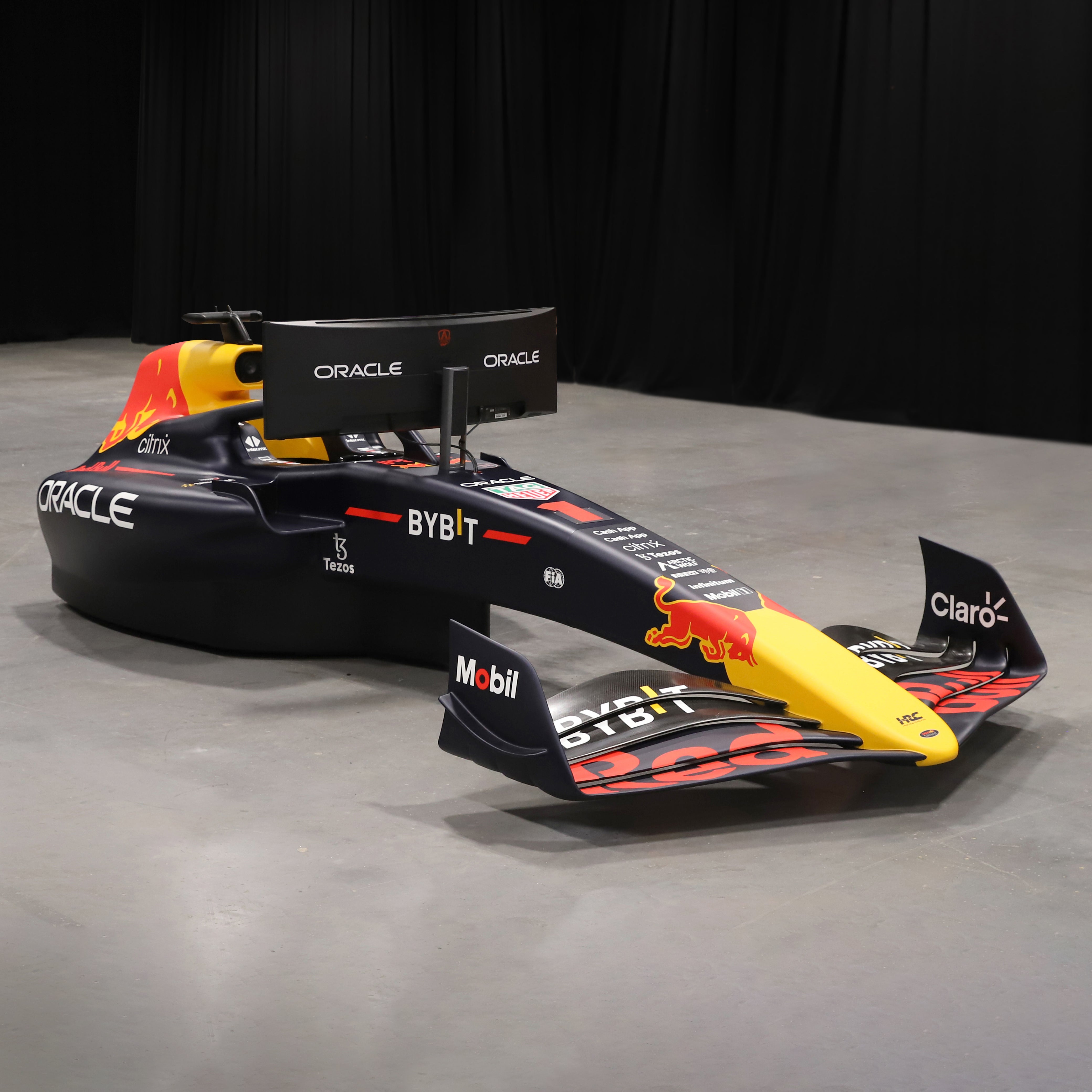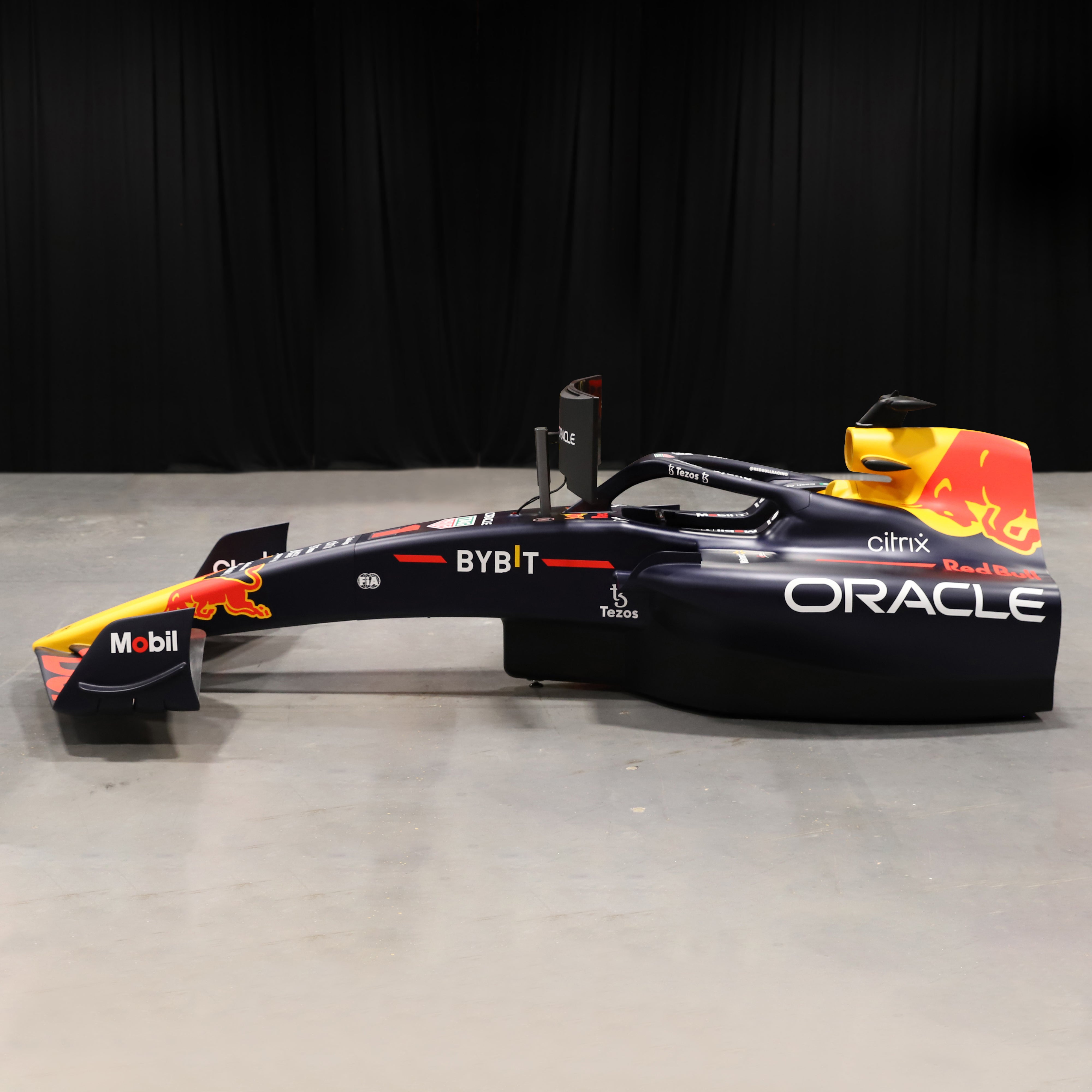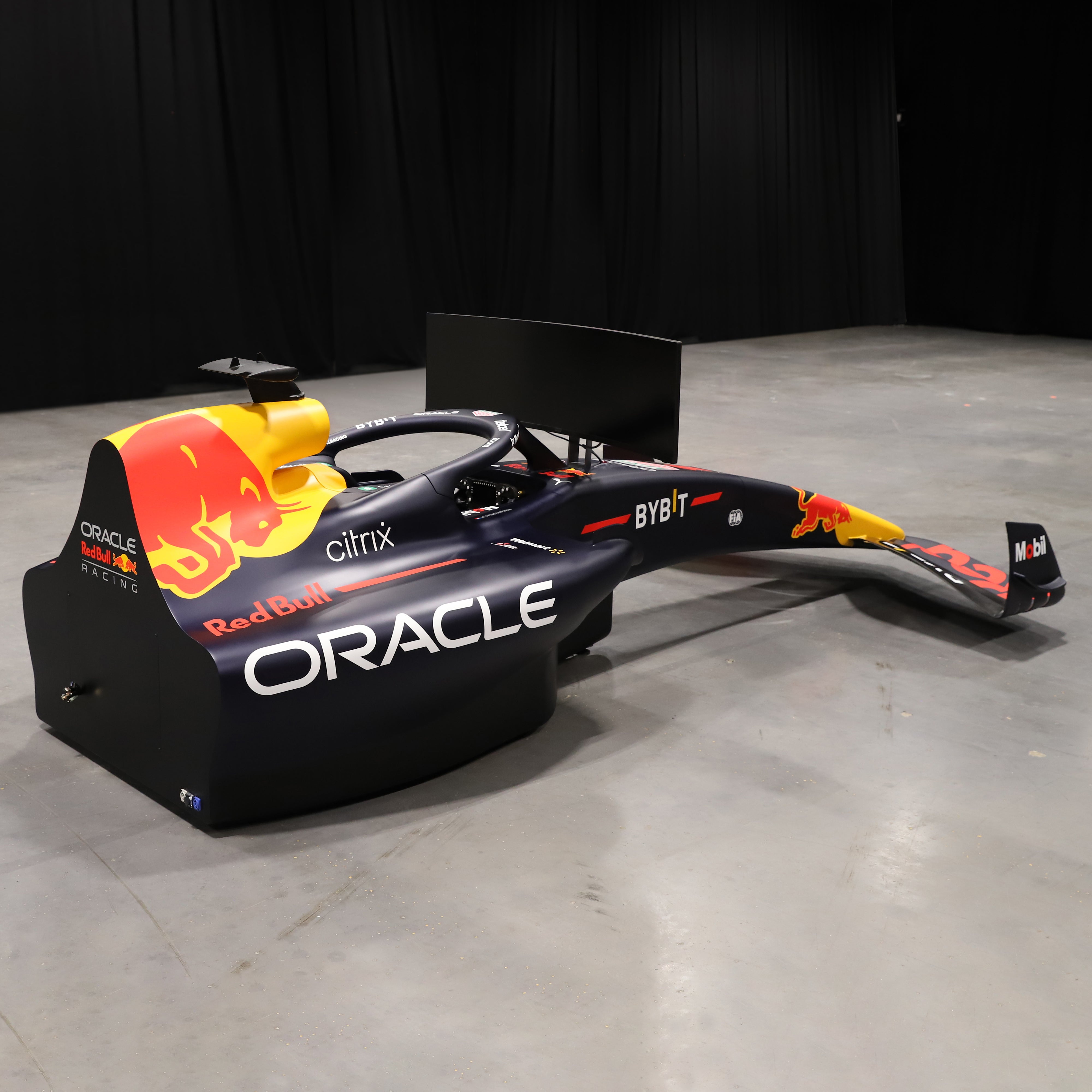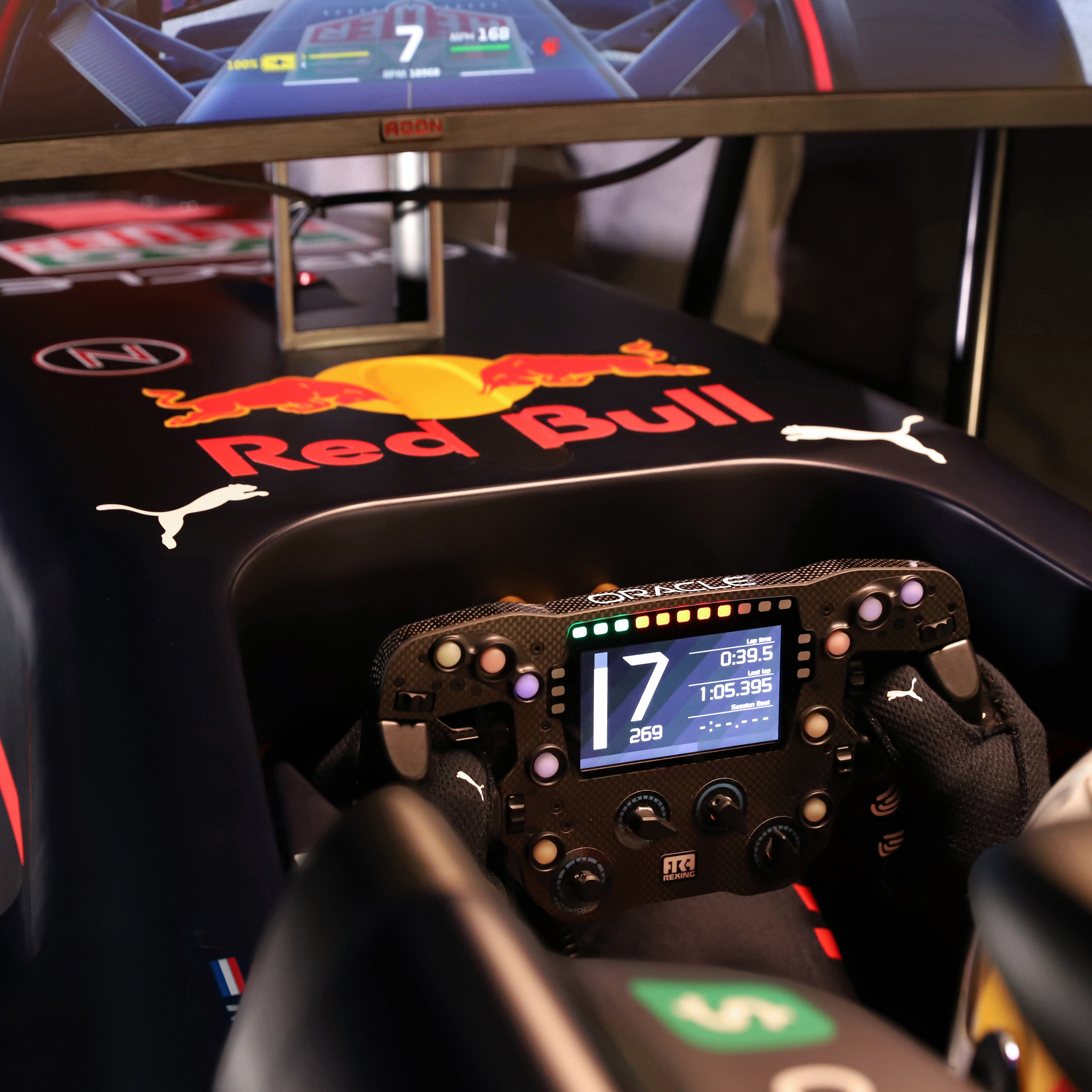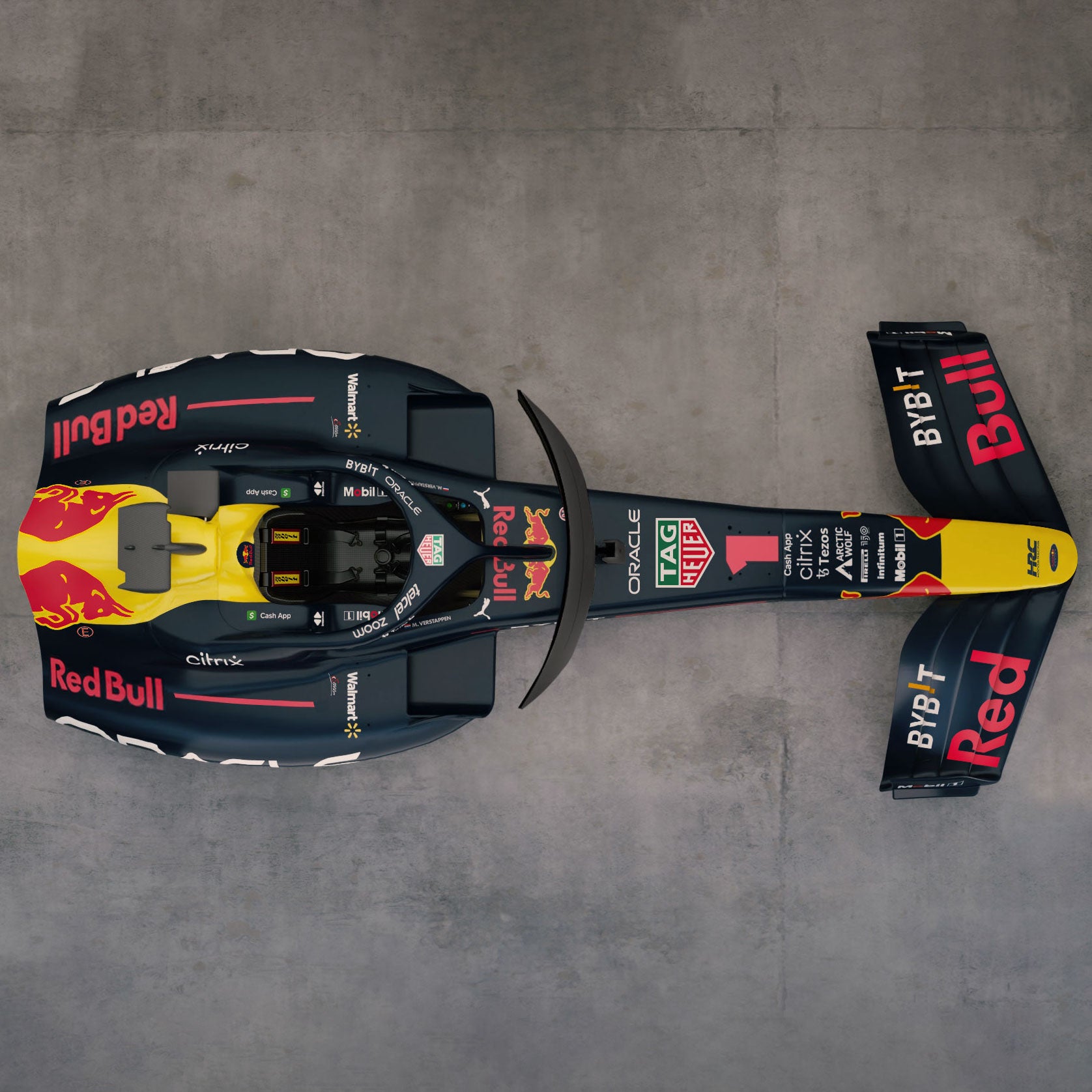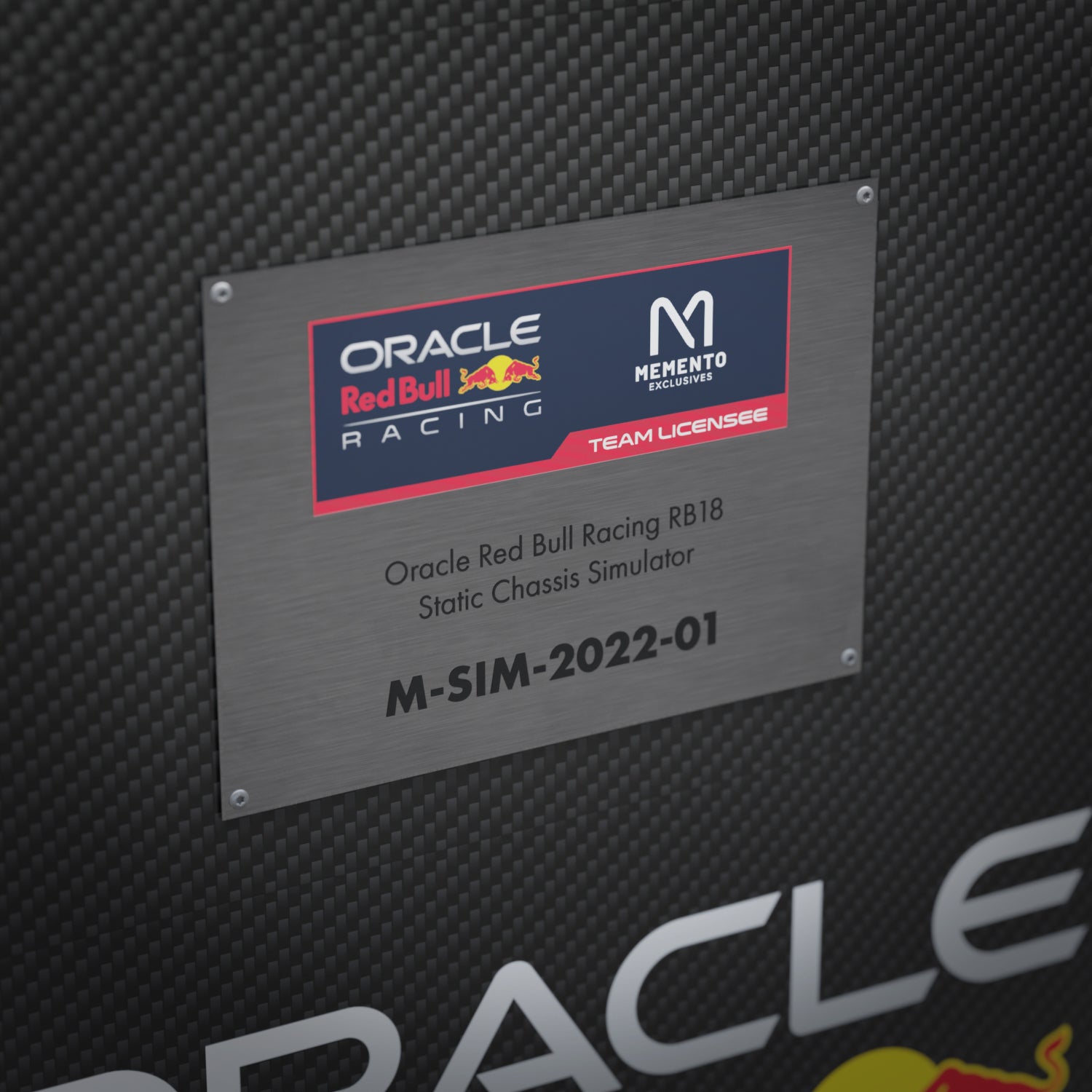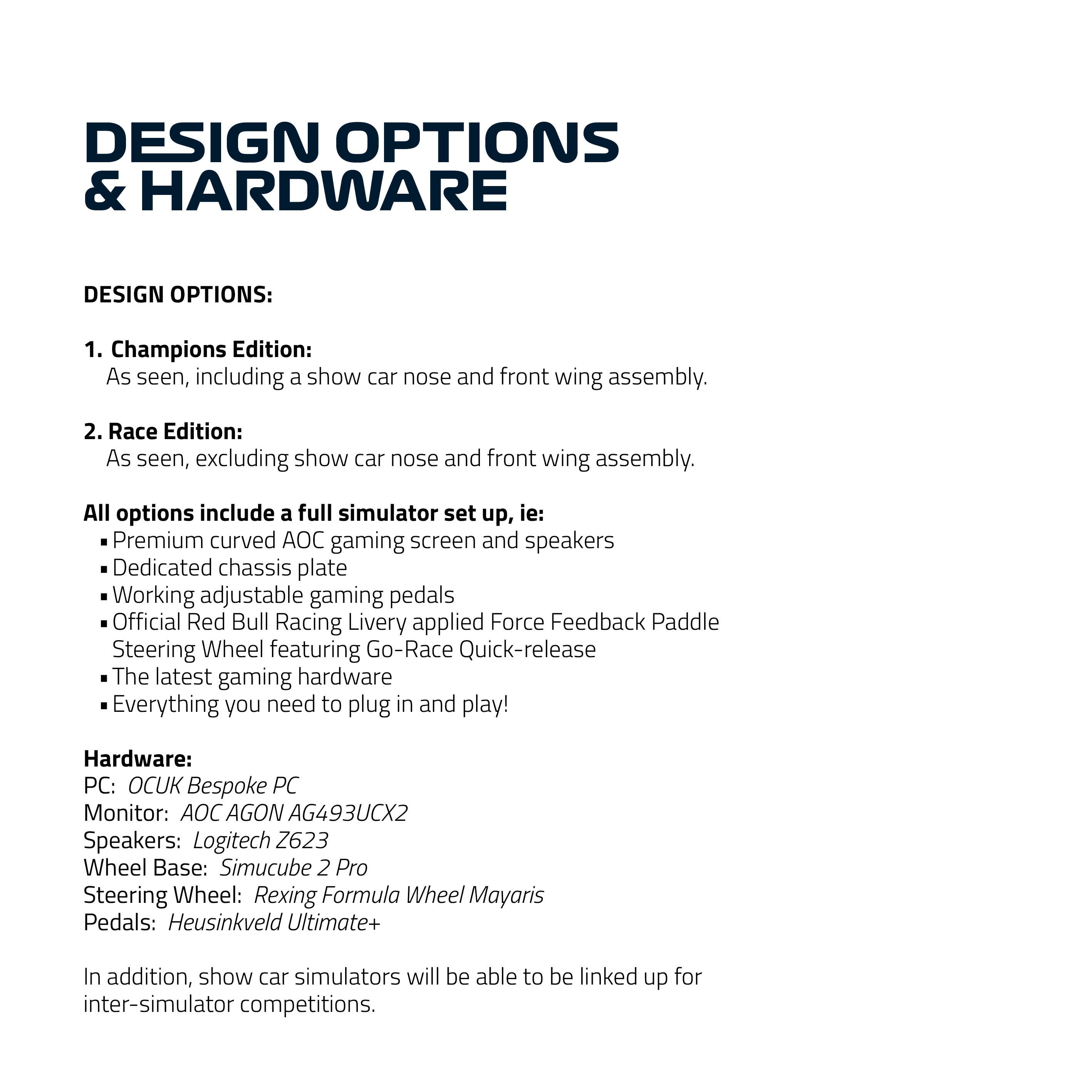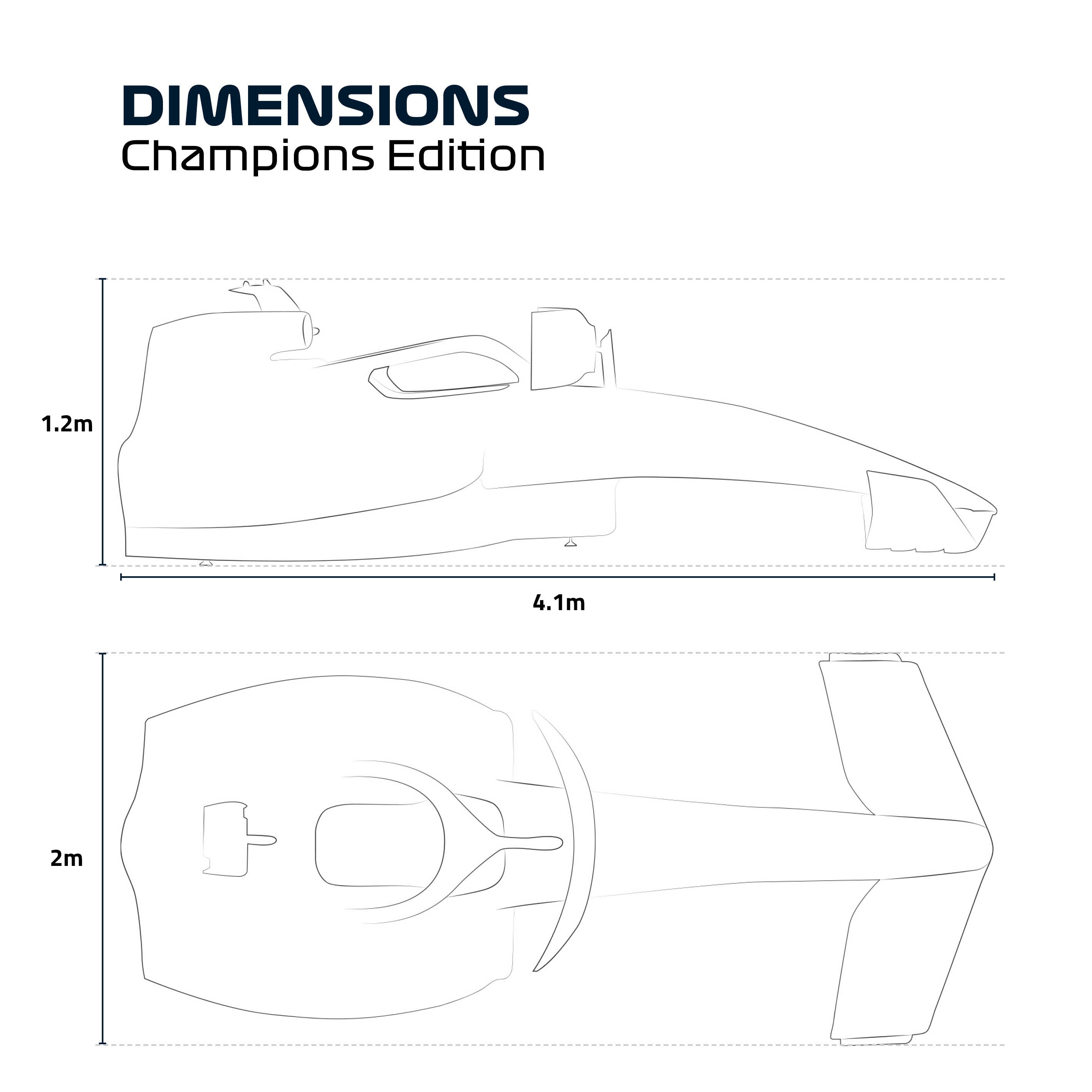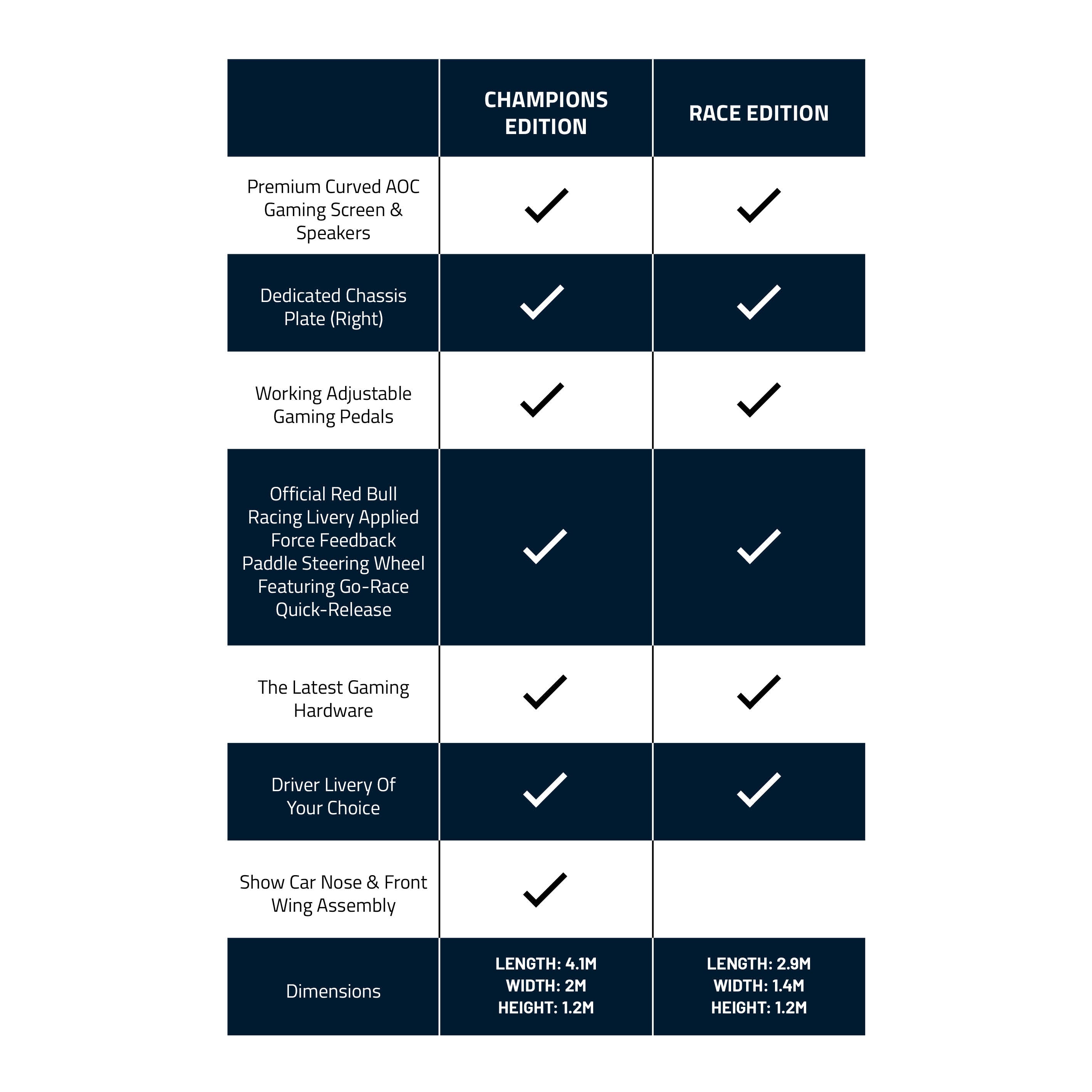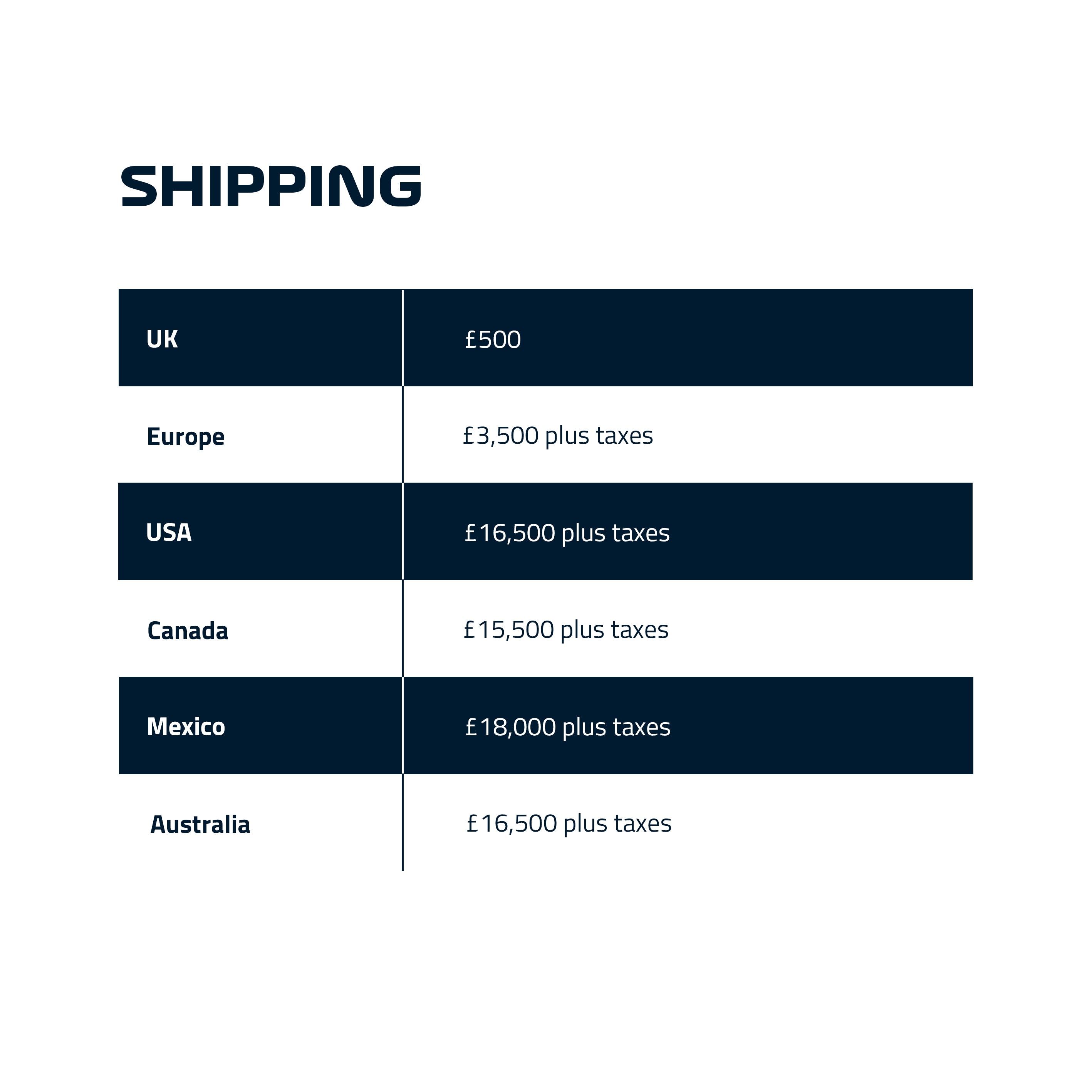 Official 2022 Oracle Red Bull Racing RB18 Show Car Simulator - Championship Edition
---
Available for the first time – experience racing like never before!

This is your chance to own a unique piece of F1 history. Oracle Red Bull Racing have collaborated with F1 Authentics to offer a world first: an official team licensed Formula One simulator – the closest you can get to racing a real F1 car.

Based on the actual CAD data and livery of the 2022 Oracle Red Bull Racing Championship-winning RB18, this F1 simulator has been expertly engineered and manufactured by Memento Exclusives in collaboration with the Oracle Red Bull Racing F1 team.

Close To The Real Thing

The 2022 Oracle Red Bull Racing RB18 Show Car Simulator is the first time an F1 team has offered for sale a product that is based on the exact CAD data from its F1 car. For example, the reference seating position is exactly the same as used by Max Verstappen throughout the 2022 F1 season making the experience as close to the real thing as possible.
SKU: 101105-06090023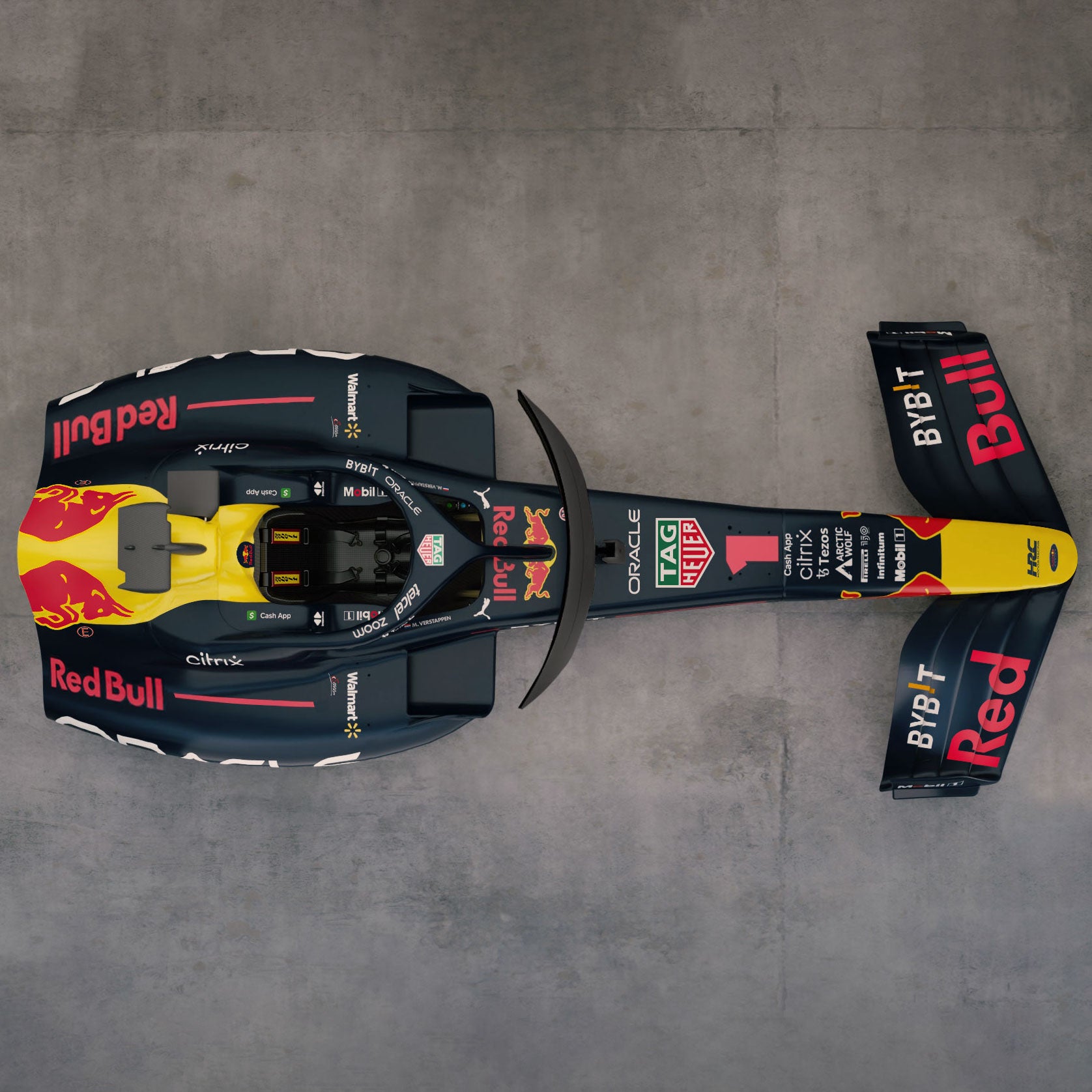 The build of the simulators uses the same processes as the real race cars and are built by F1 experienced technicians in the Memento Exclusives race bays, only a few miles from the Oracle Red Bull Racing F1 campus in Milton Keynes. Using the official CAD data, the bespoke composite tooling is used to create patterns, which are then used to make carbon fibre moulds via an autoclave. Each mould is then used to recreate each specific part of the car's bodywork. That's why the simulators look identical to the F1 race cars they are based on.

The simulator hardware has been finalised in partnership with the race team to deliver only the best market-leading options for each part. The result? A fully licensed and developed F1 virtual racing experience like never before.
OWN THIS CAR
Specifications & Design Options
Both the Champions Edition and Race Edition (Champions Edition features full nose and front wing) can be ordered with your choice of either Max Verstappen Championship-winning livery or Sergio Pérez livery.
All options include a full simulator set up
Official Red Bull Racing livery
Uniquely numbered chassis plate
Premium curved AOC gaming screen
Adjustable gaming pedals
Force feedback paddle steering wheel featuring 'Go-Race Quick-release'
The latest gaming hardware
Warranty and access to remote support for 1 year
In addition, show car simulators can be linked up for inter-simulator competitions.
Everything you need to plug in and play!
Hardware

All hardware has been chosen in partnership with the race team and includes:
PC: OCUK Bespoke PC to our specifications
Monitor: AOC AGON AG493UCX2
Pedals: Heusinkveld Ultimate+
Speakers: Logitech Z623
Wheel Base: Simucube 2 Pro
Steering Wheel: Rexing Formula Wheel Mayaris
This is an incredible opportunity for F1 fans to feel like a racing ace themselves and bring the thrill of F1 to you.

Order Process
Strictly limited volume of units available on a built to order basis in 2023. Orders fulfilled on a first come first serve basis with an estimated 3-month lead time.

Delivery
Standard delivery via shipping crate with flight case option available upon request.
'White Glove' delivery, set up and training at your home or place of business also available from our experienced F1 and gaming experts. POA.

PLEASE NOTE: The shipping prices will vary depending on location and will be calculated after purchase. We have highlighted approximate prices in the table provided but post purchase a member of our private sales team will be in contact with you to give you a quote based on your precise global location. The shipping price paid at purchase is a deposit.

Shipping Delivery to Europe will be approximately 3 - 5 Days
Shipping Delivery Time Overseas will be approximately 4 - 6 Weeks

Enquire Now
Throughout the years F1 Authentics and myself have consolidated a long-term relationship with Art, Memorabilia but most importantly F1 exhibition cars.Doing intercontinental transactions, requires a lot of communication, F1 Authentics are professionals who stay in control and provide me with a solution.
I first met F1 Authentics a few years ago, when I pursued a long-standing dream to purchase an authentic F1 car and hang it on a wall.  To describe the entire experience with the transaction as "amazing" is an understatement. The team graciously assisted with all shipping logistics from the UK, and I was blown away when the car arrived. It surpassed all expectations.
The F1 Authentic's team has been both easy and great to work with. They not only helped me track down the perfect chassis, but they also helped with door-to-door shipping and logistics. I would recommend F1 Authentic's to anyone looking to expand their collection into the racing grid.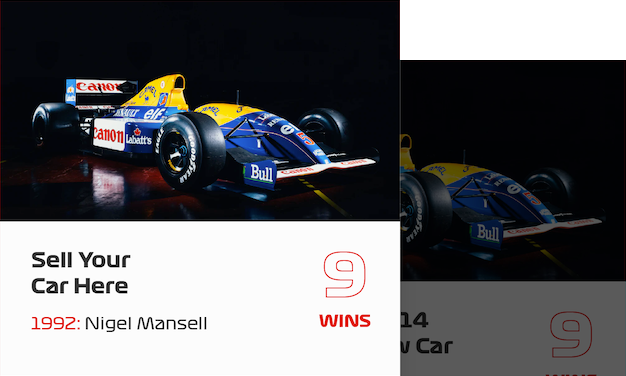 Sell with F1Authentics
We are uniquely positioned to bring retired F1®cars and show cars to market.
Browse our online collection of formula one cars for sale below. Not all of our cars are listed online, for Private Sales and information on our full inventory of F1® cars, please reach out to our Private Sales team by filling out our form.
LEARN MORE